Chhaya Surti Sankath
Chief Executive Officer - 'The Strategist'
Chhaya Surti Sankath is the Chief Executive Officer at KMV .
KMV was launched in India In 2013 with a clear vision of knowledge Dissemination to the medical fraternity & patients. She has been conferred upon the title of" Women of Excellence" for 2017 by the Indian Achievers Forum.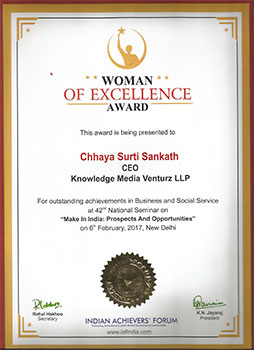 Prior to joining KMV, Chhaya was Head – Medical Communications at Wolters Kluwer, a leading publisher globally. Chhaya brings to KMV over 2 decades of experience in Healthcare Communications, CME and Medico-Marketing. She has worked with IJCP, Indegene Lifesystems and McCann Healthcare Worldwide. Not to miss out on her field experience for 3 valuable years as a Medical Representative.
Chhaya holds a B. Pharma degree from Bombay College of Pharmacy.
Connect with Chhaya on Linkedin.
+91-9867421131 | chhaya@kmv.co.in